6-Axis 3D Structural Laser Cutting Services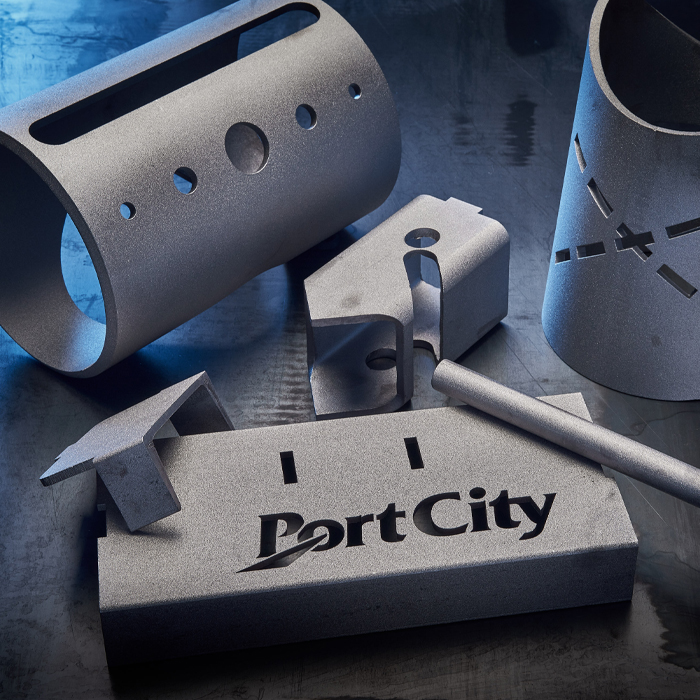 Complex 3D Structural Laser Cutting with Tightest Tolerances.
Port City Metal Services advances your parts-fabricating options with fully dimensional 3D structural laser cutting technology. Our MAZAK 6-axis cutting capabilities allow us to perform angled, chamfered, coped, contoured, and beveled metal cutting with exceptionally tight tolerances. Our structural processing capabilities reduce the number of operations and setups required to create complex parts, shortening fabrication times and dramatically increasing speed and cost efficiency.
6-Axis Structural Laser Equipment
Port City Metal Services has three 6-AXIS STRUCTURAL LASERS with automatic load/unload capabilities. These 4kW multi-axis lasers have working envelopes up to 16"OD x 40' long and are equipped with CNC multitool, tapping heads and CNC probe capabilities for increased accuracy. Structural shapes include tubing (rectangular and square), pipe, channel, angle, and beams.
| MODEL | RESONATOR | MAX DIAMETER | MAX LENGTH |
| --- | --- | --- | --- |
| 2020 Mazak FG-220 DDL | 4000 watt | 8.6" | 480" |
| 2018 Mazak 3D Fabri Gear 400V III | 4000 watt | 16.0" | 480" |
| 2015 Mazak 3D Fabri Gear 400V II | 4000 watt | 16.0" | 480" |
Carbon Steel

Stainless Steel
Tubing (rectangular & square)

Pipe

Channel

Angle

"H" and "I" beams

Custom shapes
MAXIMUM / MINIMUM SIZES:
Part length through 40′

Pipe from  0.79″ OD through  16″ OD

Rectangular tubing through 12″ x 10″

Square tubing from 0.79″ x 0.79″ through 12″ x 12″

Part weight through 2000 lbs

Carbon steel thickness through 3/4″

Stainless steel thickness through 3/8″
TOLERANCES:
KERF:
Minimal kerf allows precision laser burning of small cutouts and holes.
HEAT AFFECTED ZONE:

A narrow heat affected zone minimizes stresses induced during the cutting process thereby eliminating most thermal distortion.